who we are
Journeys in active fandom
There are a lot of fans out there, but how did they, and more importantly, how can you, turn your passion into something creative? Join us each week as we meet fans who have moved from being consumers to creators. If your interests spring from speculative fiction and related fandoms, join us; whether you're a model builder, cosplayer, artist, writer, fan-publisher, or club organizer, you'll find something of interest with The Halfling and the Spaceman!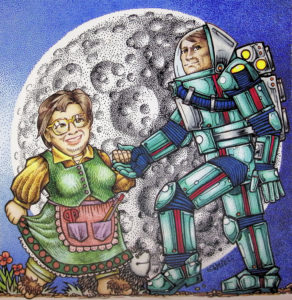 OUR FORMAT
We have three types of shows; "Conversations", "Discussions," and "Second Breakfast With the Halfling and the Spacemen."
The majority of our shows will be Conversations, where we meet a single guest, get to know them a little, discover how they became involved in their particular hobby or fandom, and what advice they can pass along to anyone who might wish to take up their discipline.
Discussions are inspired by convention panel discussions, will feature a single topic with multiple guests contributing to the discussion.
Second Breakfast With the Halfling and the Spaceman, will feature the Halfling and the Spaceman as we talk about things related to the podcast, just between the two of us. These episodes will be shorter and scattered among our regular content.